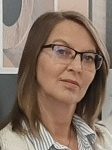 Ms. Bauer took over the role from Mr. Peter Hausensteiner in February.
Mr. Hausensteiner left after 45 years with our company and he is now enjoying his well-deserved retirement.
Ms. Woch and Ms. Lintner are staying at the purchase department to support Ms. Bauer in the upcoming years just as they did in the past years.
Mrs. Sonja Tannert is filling Ms. Bauer's position at the export department.
Mrs. Tannert is also a long-time employee of our company.
She and Mr. Magyar are going to take care of our export customers.